Ramadan 2020 will go down in history as one of the most challenging times of our lives as the entire world abruptly comes to a screeching halt amidst the coronavirus pandemic crisis. Along with being the most spiritual time of the year for devout Muslims, Ramadan also plays a pivotal role in the deepening of community ties with extended family, neighbors, friends and fellow mosque-goers. Muslims across the globe anticipate and eagerly plan for extravagant meals with their loved ones for the breaking of their daily fast, or Iftaar.
With the entire world being urged to stay indoors and self-quarantine, this Ramadan is going to be incredibly isolating as public gatherings are shunned for the sake of public safety. And as difficult as it can be for us adults, it's a much harder task for children who are all home from school, missing their life and routines. But Ramadan can still be a special, celebratory time for your family even when self-isolating.
Read on to learn 5 great tips to help you manage Ramadan with kiddos this year.
1) Focus on 2-3 traditions
I get it, we all have numerous rituals and customs that we heartily follow during the holy month of Ramadan but this is not going to be the year for it. Find 2 or 3 things that are the most important to your family and make sure they're manageable! For example, for my own family, I will stick to making potatoes patties (a tradition passed on from my grandmother to my mom and now to me) and having Magrib (sunset) prayers together each night with the boys. Both are easy to manage and will go a long way in helping build some continuity for the children, hopefully.
2) Maintain a schedule
Even though this seems a bit hard, I promise that if you can set up the children with a easy-to-understand schedule within the first week of Ramadan, you'll get a lot more done and most importantly, the kids will thrive as well. Even though most of us tend to fall off routines during Ramadan, this year is different and helping maintain a structured day for your children will make the month of fasting easier for everyone. And who knows, you might even be able to squeeze in a daily nap!
3) Cultivate a virtual community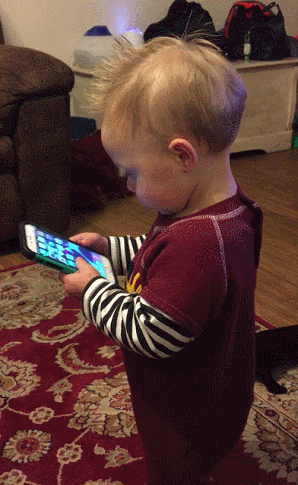 You're not the only one missing friends and family at a time like this. Children really thrive on schedules to help manage expectations and are probably struggling as much as you are. Be sure to deliberately set-up scheduled online playdates and zoom calls with family members so that children can regularly interact with loved ones. For example, host a virtual Iftaar party for children and have kid-friendly dishes and décor to set a festive atmosphere.
4) Decorate your home
Embrace your inner Martha Stewart and pull out the arts & crafts supplies with your children. Pinterest has thousands of fantastic (and easy to make) ideas for how to create a festive wonderland, including cardboard mini mosques for kids! Your home will have to compensate for setting the entire mood of Ramadan that usually takes an entire community to help do. By engaging your children in the task, you can create fun holiday décor while keeping them engaged.
5) Be gentle
This is going to be a tough Ramadan no matter how we try to frame it to ourselves. So please make sure that you remember to be gentle on yourself as well your kids. It's okay if things don't go perfect or grand during Ramadan 2020. The social isolation may be a wonderful opportunity to connect on a deeper spiritual and family level so take it for what it is and don't bemoan all the things that you had planned for. Look inward and find mercy for yourself and especially your children. You are able to spend another Ramadan with them so use it wisely and don't get caught up on the things you're missing out on. Children take their cues from adults so be extra vigilant about not complaining in front of them.
Sara Ahmed
@sugarlandsara
While you make Ramadan special for kiddos, make sure you make it special for yourself too. The most important night of the year, Laylatul Qadr, which is better than a thousand months falls in the last 10 nights of Ramadan. MyTenNights helps you catch Laylatul Qadr by automating your donations, so you don't miss the opportunity to multiply your deeds.
5 tips to help parents navigate Ramadan in lockdown